Mt Kenya Climb - Chogoria Route
Said by many to be the most scenic route to the summit of Mount Kenya - Chogoria is a challenging and yet little-walked trail that offers great rewards to those who take it on.
Additional information
$1250 per person (based on a minimum of 4 people climbing)
This price excludes Park Fee's
Included
Guide and porter fees
All meals
Professional and qualified English speaking guide (qualifications as per the MDT and UIAA requirements)
Transport to and from the Park Gates from Nanyuki.
Full expedition first aid box and emergency oxygen tank.
Emergency rescue services.
Excluded
KWS Park fees.  (mentioned above)
Snacks
Personal equipment i.e. sleeping bags, clothing etc See gear list attached (item can be rented on request, advanced notice required)
Guide and porter tips
Laundry
Visas ($50 Tourist visa for Kenya)
Tour starts/ends:
Starts: Jomo Kenyatta International Airport (Nairobi) or in Nanyuki
Ends:  Jomo Kenyatta International Airport (Nairobi) or in Nanyuki
Note: we can also pick you up or drop you off at the hotel of your choice in the greater Nairobi area if you notify us in advance. 
Expected group size:
On regular group tours the expected total group size is between 2 and 10 travellers.
Type of vehicles used:
For transfers to and from the airport and long distance trips reliable and modern minibuses are used. Please note that we cannot guarantee air conditioning.
On safari drives open-topped jeeps are used.
Food and drink:
The food prepared at the lodges and/or hotels on this tour will be of an international nature and suited to a broad range of visitors. If you have any specific dietary requirements please let us know in advance so that we can inform the lodges and hotels along the route. Alcoholic drinks, unless specifically mentioned in the itinerary, are not included in the price.
Baggage and what to bring:
Important note: If your itinerary includes a leg of the journey on a light aircraft then please be advised that the maximum TOTAL weight allowance including hand luggage is 15kg (approx 33lbs) and all luggage must be in a soft bag i.e. NOT a suitcase. 
We recommend that you do not forget to pack the following:
- Insect repellant cream/spray
- Camera and binoculars
- A torch (flashlight)
- A waterproof/dustproof bag
What to wear:
Although Kenya lies in the tropics it can get chilly in the evenings and early mornings. On this trip we recommend that you include the following in your baggage:
- A pair of sturdy lightweight shoes or boots
- Light coloured clothing with long sleeves and legs for the evenings and early mornings
- A hat to keep the strong sun off your head
Level of ability required:
Although there will be no special strength and fitness requirements, please note that safari lodges situated in remote areas are by their very nature lacking in many of the modern conveniences found in cities. For this reason please be prepared for uneven floors and sometimes challenging access.
You must be able-bodied and have the ability to move independently without help on this tour.
Health and vaccinations:
You should speak to your health provider about what vaccinations you will need for your trip to Kenya. In addition, most doctors recommend using anti malarial pills for your visit and taking measures to avoid being bitten by mosquitos, such as covering up exposed arms and legs. Lodges will provide mosquito nets over the beds.
If you take any medication, be sure to bring it with you, as well as details of your prescription. 
We advise all travellers to take out comprehensive travel insurance before their trip.
While you are away:
If you are away on holiday with Albatros Travel in Kenya and someone needs to get in touch with you urgently, they can call our emergency number, which is +254 722 521686
Bringing Electronic Equipment:
If you are bringing electronic equipment to Kenya, such as a digital camera, laptop computer, smartphone etc. and need to plug it into a wall socket then you should consider buying a voltage surge protector. Voltage in Kenya is set to 220v. Most (modern) electronic equipment can switch automatically to this voltage, but it is best to check the label on the power supply. Most lodges provide electrical power by way of a generator, so to protect your equipment against voltage surges it is advisable to but a voltage surge protector. Plugs in Kenya are of the British 3 pin variety, so if you are coming from outside of the UK you will need to buy some adapters, which are readily available at airport stores.
Phones and Connectivity:
If you are planning on bringing your mobile phone and/or wifi enabled laptop to Kenya you should bear the following in mind. Kenya's phone system supports 3G, and this is how most telecommunications are managed. Furthermore, many safari lodges and hotels offer wifi to their guests, and there are numerous other hotspots around the country. If you want to stay in touch during your stay in Kenya the best course of action is to buy a credit-loaded sim card for your phone/mobile device in Nairobi, and then connect to the internet and make phone calls via this.
Getting to and from Kenya:
Many carriers fly directly to Nairobi's Jomo Kenyatta International Airport and, to a lesser extent, Moi International Airport in Mombasa. If you arrive a day or two before the start of your tour, we can help you to arrange hotel accommodation and book excursions for you. Please note that the price of this tour does not include international airfares.
Tipping and Other Costs:
Tips are expected in Kenya by anyone who provides you with a service. This could range from porters and waiters to drivers and local people whose photo you would like to take. As a general rule, it is polite to provide driver/guides with about $10 per day if they give a good service. Tips should be in Kenyan Shillings, as staff will find it difficult to use foreign currency. Other than money for tips we advise you to bring extra money on your trip to buy drinks and handicrafts.
Insurance:
Please note that travel insurance is not included in the price of this tour. We suggest that you take out a comprehensive policy from a reputable provider. If you want the peace of mind of knowing that you have an air ambulance available during your trip you could consider taking out temporary membership of the Flying Doctors.
Visa requirements:
Depending on your nationality you will probably need a tourist visa to enter Kenya for this tour. The current cost of a single-entry tourist visa is USD 50 per person and these can be purchased on arrival, for most nationals, in all major currencies.
For more comprehensive information visit the Project Visa website. 
Cancellations:
If you need to cancel your trip for whatever reason, please get in touch with as soon as possible.
For more information about cancellations and refunds please refer to our general Terms & Conditions.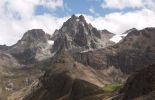 Why not extend your stay with one of these offers
4.2
5
130